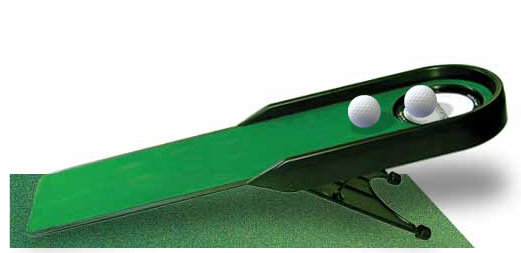 The UK original Putting Aid
For all you budding Golfers, pro & amateur, an affordable 'must have' to give you that extra edge over your golfing buddies!
RoomGolf Only £10.00 +postage & packing**
A perfect gift idea for family, friends or even give it as an executive gift to one of your valued customers. Unlike bottles of booze, the RoomGolf will be used time and time again which will remind your customer of you every time they use it and it is completely tax deductable .
Features
Adjustable hole depth from amateur to professional

Supplied with 2m Putting Carpet

Multi-height adjustable leg to adjust slope height

Adjustable feet to fine tune your putting settings

Supplied with three golf balls; just pick up your putter and start practising

Small and compact enough to be stored and played anywhere. Hotel rooms, office, home, garden... anywhere!

Supplied with instructional leaflet in shop quality display boxes.
Product Specifications

** Various shipping options for you to choose from. Please ask for more details. ¥ Total weight for shipping : 1.3kg per unit Prices given exclude VAT @ 20%